There's only one you—and that's exciting!
Personal branding is more important now than it's ever been. There is a lot of noise out there and--more and more--people are the differentiating factor in business decisions, influence, reputation, leadership and success.
Whether you know it or not, you already have a personal brand. It isn't something you "put on" or manufacture, and it's not just your online platform or how you use social media. Your personal brand is you; it's how people see and experience you. It's what you're known for. And it matters for your success and the success of your company.
Your talent holds power. How are you using it?
When you have a strong personal brand, it:
helps others notice you, listen to you and trust you
helps you stand out as your best self
helps you find more meaning in what you do
helps you understand how you can uniquely add value to meet your customer's needs
helps you have the greatest positive impact
helps strengthen your company's brand
Strengthening your personal brand also gives you greater clarity on your purpose and how to live that out with passion; before you can identify your niche and unique value proposition, you need to know you. When you take time to discover more about who you are (things like your personal values, strengths, and shaping experiences), it informs your direction, actions and communications. And it points you to the areas you'll bring the most significant contribution and find the most meaning.
I'd love to help you and your team strengthen and manage your personal brands so you can have the greatest impact.
Whether it's through:
one-on-one coaching (in-person or remote)
team or group workshops and presentations (see benefits to companies below)
I have one goal in mind: to help you succeed. 
I'm a vetted member of the Professional Coaches Association (PCA) and my coaching services include:
An interview with Genny - the what and why of personal branding, and how it can help you:
Personal Branding Coaching Sessions
In my own life, I've walked the path of many of the things I coach women through today: life and career changes, discovering your purpose and passion, pursuing your dreams, overcoming fears and obstacles, strengthening and communicating your unique value, and identifying that next step, whatever that next step might be.
My one-on-one personal branding coaching sessions follow a four-phase process and touch on these areas: 
identifying and applying your unique values, passions, strengths, skills and experiences to make an impact
assessing who you are to others (does your self-perception match how others see you?)
communicating who you are (online and in-person) in a way that tells your story and adds your unique value
developing a personal mission statement and personal brand statement
identifying and taking action that leads to increased personal and professional growth and confidence
finding more meaning and fulfillment in what you do
conquering things that hold you back so you can achieve your full potential
Team or Group Workshops and Presentations
In today's environment, reputation can be your company's greatest asset--and the personal brands of your employees can strengthen or weaken your company brand. Not only do customers trust an influencer more than an advertisement, it's been found that people are more likely to trust and buy from companies whose leaders engage in social media. Yet personal branding is even more than online presence; it taps into the heart of your employees, draws out their best, and informs and guides how they communicate and live that out.
I come alongside groups and teams and take you through a four-phase Personal Branding process that helps:
discover and maximize the unique value each team member brings to the table
assess if reputations match self-perceptions
evaluate and strengthen communications (online and in-person) to add value
develop a personal brand statement that helps each team member live their brand in a way that makes the greatest positive impact
maximize and strengthen your online presence
strengthen your company's overall brand by strengthening employees' personal brand
I customize workshops and presentations based on your team or organization.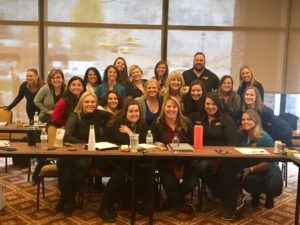 Here's a recent personal branding workshop for leaders at Texas Roadhouse restaurants in Jackson Hole, WY.
What did they have to say?...
"From the prep work in getting to know her audience, to the planning and logistics of our time with her, to the delivery of her messages… Genny was sensational. Our team thought she was as authentic as they come: sharing deep insights into personal branding using anecdotes from her own life! Genny brings a ray of light, positivity, hope, and foundational knowledge to a room filled with leaders at every level." -Jenn Pressner-Taylor, Regional Marketing Director, Texas Roadhouse Restaurants
When your company helps its employees strengthen and manage their personal brands, your company's brand is strengthened as well. Personal Branding helps employees:
better connect who they are to what they do
get greater clarity and find more meaning and direction in their position and career path
increase their confidence and presence
better position themselves for future success
clearly communicate direction and goals to potential sponsors and mentors
communicate and live out their personal brand in a positive way that can contribute to your company goals
stand out by being their best self
better appreciate the different value each person brings, increasing collaboration and reducing competition
Find out more or schedule a workshop or presentation here.
A successful leader motivates and inspires others, and that begins with
you

being motivated and inspired. I look forward to helping you get there.
How do you get started?
Interested in finding out more or working together? I'd love to hear from you.