There's only one you—and that's exciting!
Your talent holds power. How are you using it?
Personal branding is more important now than it's ever been. Regardless of your career or direction, when you know who you are--your values, your passions, your strengths, your skills, and your shaping experiences--you have a strong personal brand, which helps you:
stand out as your best self
find more meaning in what you do
and have the greatest positive impact.
There is a lot of noise out there in the world, and more and more, people are the differentiating factor in business decisions, change, influence, leadership and success. Whether you know it or not, you already have a personal brand. It isn't something you "put on" or manufacture; it's you:  it's who you are and how people see and experience you. And it matters for your success and the success of your company.
I'd love to help you strengthen and manage your personal brand so you can live out your purpose with more passion and impact.
Whether it's through:
one-on-one coaching (in-person or remote)
team or group workshops and presentations
I have one goal in mind: to help you succeed. 
I'm a vetted member of the Professional Coaches Association (PCA) and my coaching services include:
Personal Branding Coaching Sessions
In my own life, I've walked the path of many of the things I coach women through today: life and career changes, discovering your purpose and passion, pursuing your dreams, overcoming fears and obstacles, strengthening and communicating your unique value, and identifying that next step, whatever that next step might be.
My one-on-one personal branding coaching sessions follow a four-phase process and touch on these areas: 
identifying and applying your unique values, passions, strengths and experiences to make an impact
taking action that leads to increased personal and professional growth and confidence
finding more meaning and fulfillment in what you do
conquering things that hold you back so you can achieve your full potential
developing skills and strategies for career and life transitions or advancement
creating a professional development plan
Team or Group Workshops and Presentations
I come alongside groups and teams and take them through a four-phase Personal Branding process that helps them:
discover and maximize the unique value and strengths they bring to the table
assess if their reputation matches their self perception
effectively and authentically communicate their personal brand to add value
develop a personal brand statement that helps them live their brand in a way that makes the greatest positive impact
strengthen their company's brand by strengthening their personal brand
I customize workshops and presentations based on your team or organization (length is approximately three hours, but can be changed to fit specific needs and time frame).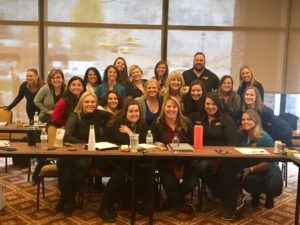 Here's a recent personal branding workshop for leaders at Texas Roadhouse restaurants in Jackson Hole, WY.
What did they have to say?...
"From the prep work in getting to know her audience, to the planning and logistics of our time with her, to the delivery of her messages… Genny was sensational. Our team thought she was as authentic as they come: sharing deep insights into personal branding using anecdotes from her own life! Genny brings a ray of light, positivity, hope, and foundational knowledge to a room filled with leaders at every level." -Jenn Pressner-Taylor, Regional Marketing Director, Texas Roadhouse Restaurants
When your company helps its employees strengthen and manage their personal brands, your company's brand is strengthened as well. Personal Branding helps employees:
better connect who they are to what they do
find more meaning and direction in their position and company
increase their confidence and presence
position themselves for future success
make more of a difference in the lives they touch
stand out by being their best self
Find out more or schedule a workshop or presentation here.
A successful leader motivates and inspires others, and that begins with
you

being motivated and inspired. I look forward to helping you get there.
How do you get started?
Interested in finding out more or working together? I'd love to hear from you.